Becoming an Audiometrist Member of the NZAS
NZAS accepts applications from suitably qualified Audiometrists (see Membership Qualifications and Pathway Policy), which includes:
A TAFE Diploma (Australia) in Audiometry, or
Registration with the Health and Care Professions Council (HCPC) as a Hearing Aid Dispenser (United Kingdom), or
A qualification that has been verified and deemed by the Executive Council to be, at a minimum, academically equivalent to the TAFE Diploma or HCPC Hearing Aid Dispenser registration.
Alternatively, an individual may apply to be an Audiometrist member when their audiology qualification is not deemed to be academically equivalent to a New Zealand Master of Audiology.
All overseas-qualified applicants must have their qualifications reviewed by either the New Zealand Qualifications Authority or Double Check NZ to confirm that they are valid.
Provisional Audiometrist Application Form >
Provisional Membership Application Handbook
It is highly recommended that you download and read through the handbook BEFORE completing and application.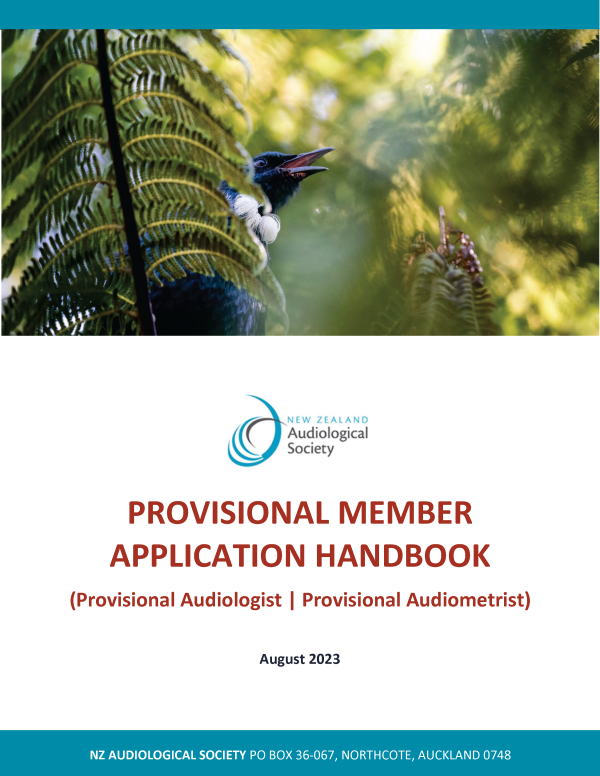 Contact
New Zealand Audiological Society
PO Box 36067
Northcote
Auckland 0748
0800 625 166 (NZ only) or +64 9 817 9498
© Copyright 2023 New Zealand Audiological Society
We use cookies to ensure you get the best experience on our website.
Learn more