The Certificate of Clinical Competence (CCC) is recognised by the New Zealand Audiological Society (NZAS) as the benchmark for undertaking independent clinical practice of audiology in New Zealand.
To be eligible to enrol in the CCC programme, the NZAS must first assess and approve an application for provisional membership. Details of application requirements are found in the Provisional Member Application Handbook, and along with the application forms can be found on the NZAS website.
Once the CCC has been obtained, an audiologist or audiometrist can become a Member of the New Zealand Audiological Society with full voting rights and can use the honorific 'Audiologist MNZAS' or 'Audiometrist MNZAS'.
Audiologists or Audiometrists who are a MNZAS need to maintain membership with NZAS, accrue the required number of Continuing Education Points (CEP) and hold an Annual Practicing Certificate (APC).
CCC Handbooks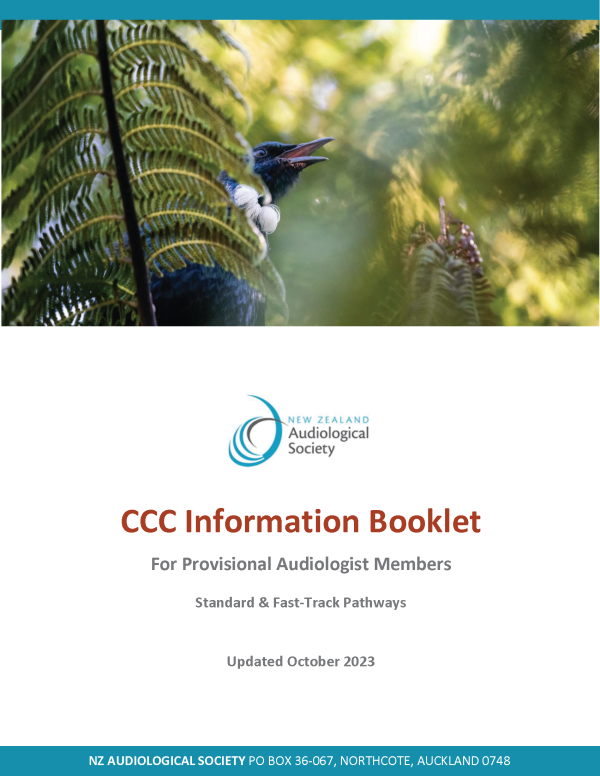 OSCE Info
The final requirement of the CCC process is the successful completion of an OSCE.
The OSCE is an Objective Structured Clinical Examination (OSCE) format. It is a half-day exam that takes place after the candidate has completed all other CCC requirements. The supervisor must also confirm that the candidate has sufficient clinical experience and management skills to be able to sit the OSCE, by signing the application to sit the OSCE.
The OSCE will consist of the candidate proceeding through a series of four stations that will separately examine aspects of adult audiological test procedures and case management. The stations may have real or simulated patients.