American Academy of Audiology Honors and Awards 2021
International Award for Hearing – Professor Suzanne Purdy
Congratulations to Professor Suzanne Purdy who has been awarded the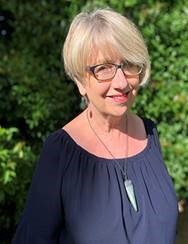 American Academy of Audiology International Award for Hearing for 2021 to acknowledge her significant contribution to audiology internationally. This well-deserved award acknowledges Suzanne's contribution to the profession of audiology in New Zealand and globally over her 30 plus year career.
After completing her PhD at the University of Iowa, Suzanne played a pivotal role in establishing New Zealand's first audiology Master's programme and then spent three years as a Senior Research Scientist at the National Acoustic Laboratories in Sydney, Australia. She has held multiple academic positions at the University of Auckland, where she is currently Head of the School of Psychology. Academically, Suzanne has published 160 peer-reviewed articles in top audiology and medical journals and is in high demand as an international speaker.
Suzanne serves on multiple Boards and committees at national and international level. She is Deputy Co-director of the Eisdell Moore Centre for Hearing and Balance Research and chairs the International Evoked Response Audiometry Study Group (IERASG). Suzanne has been an active member of the NZAS from its early beginnings and has been a member of the Paediatric Technical Advisory Group for many years. She was also a member of the committee which established the NZAS Paediatric Certificate Programme and has been a longstanding member of the NZAS Complaints Board in its various iterations.
Suzanne's community service is also significant, with major and long-serving contributions in organisations for people with communication disorders including: the Hearing Research Foundation; the Hearing House Advisory Board (cochlear implant services); the Gavel Club (public speaking therapy for adults with neurological disorders); the CeleBRation Choir (choral therapy for adults with neurological disorders); the M.G. Martin Charitable Trust (education of children with deafness); and the Stuttering Treatment and Research Trust.
Suzanne's extensive research interests range from auditory processing disorders to the effects of socioeconomic deprivation on hearing loss and language delay in children. With colleagues, she has originated novel approaches to rehabilitation for neurological conditions, including Māori-led community initiatives. Notably, Suzanne's tangata whenua (Te Rarawa, NgāiTakoto) whakapapa has led her to take a strong interest in Māori hearing health and wellbeing.
Suzanne is an outstanding leader in our field and has made contributions to the profession of audiology in New Zealand and globally. She is held in high esteem and affection by her patients, students, and international colleagues alike as was evidenced by the widespread international support of her nomination.