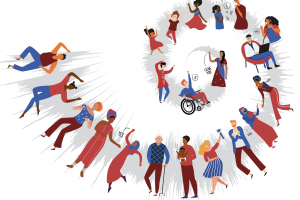 Hearing care for ALL!
Screen. Rehabilitate. Communicate
The World Hearing Day 3 March 2021 and the World Report on Hearing present a global call for action to address hearing loss and ear diseases across the life course.

The key messages of World Hearing Day 2021 target:
Policy makers
The number of people living with unaddressed hearing loss and ear diseases is unacceptable.
Timely action is needed to prevent and address hearing loss across the life course.
Investing in cost effective interventions will benefit people with hearing loss and bring financial gains to the society.
Integrate person-centered ear and hearing care within national health plans for universal health coverage.
General public
Good hearing and communication are important at all stages of life.
Hearing loss (and related ear diseases) can be avoided through preventative actions such as: protection against loud sounds; good ear care practices and immunization.
Hearing loss (and related ear diseases) can be addressed when it is identified in a timely manner and appropriate care sought.
People at risk of hearing loss should check their hearing regularly.
People having hearing loss (or related ear diseases) should seek care from a health care provider.
WHO hope that the World Hearing Day 2021 will be a massive call to action. All sectors can demonstrate their leadership by making this year's event the largest one the country has ever seen.
Further Information: https://www.who.int/campaigns/world-hearing-day/2021
Also check out the WHO World Hearing Day resources including posters, graphic and a communication toolkit all available for download.